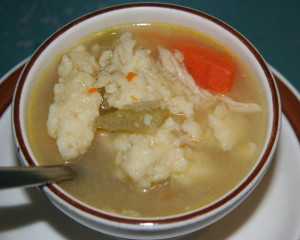 This is a delicious, comforting soup that will help warm you up on these cold wintry days.
When I made this soup, I made it gluten and dairy free. It turned out wonderfully. The dumplings were soft and flavorful, and it really filled me up!
Chicken Dumpling Soup
Note: Make this gluten-free by substituting regular Bisquick for Gluten-Free Bisquick. For dairy-free, substitute milk and butter for your favorite margarine. I recommend rice or almond milk and Earth Balance.
| | |
| --- | --- |
| Ingredients | |
| 1 medium | Yellow onion, chopped |
| 4 large | Carrots, peeled and chopped |
| 3 large | Celery stalks, chopped |
| 2 cloves | Garlic, peeled and minced |
| 2 | Boneless, skinless chicken breasts |
| 8 cups | Homemade stock, chicken or turkey |
| To taste | Salt and pepper |
| 2 cups | Bisquick mix, regular or gluten-free |
| 1/3 cup | Butter or vegan alternative |
| 2/3 cup | Milk or dairy-free alternative |
| 3 | Eggs |
| 1/3 cup | Fresh herbs, such as chives, parsley or tarragon |
In a large pot, combine stock, vegetables, and chicken. Bring to a boil, then reduce heat to simmer. Let cook for two hours. Pull out the chicken and shred it. Return it to the soup pot.
In a mixing bowl, cut the butter into the Bisquick with a fork until pea-sized clumps appear. Add in the milk, eggs and oregano and stir until dough forms. Using a tablespoon, drop the batter into the pot.
Cover, and let simmer for fifteen minutes.
Recipe adapted from Oh So Savvy Mom.
---
Do you have questions about any of these recipes? Please email me.