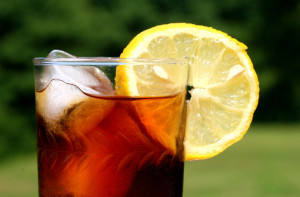 With the weather beginning to warm, you might want a tasty beverage to keep you cool as you do your spring cleaning. Try this super refreshing green tea lemonade or limeade. With just a hint of sweetness, you can truly taste the tea and the delicious fruit juice. For a fun twist, try using a flavored tea, such as green tea infused with mango, pomegranate, or ginger.
The greatest thing about this recipe is that it is over 100 calories less than the coffee shop version, and it has one-tenth the amount of sugar. Of course, if you have a sweet tooth, feel free to increase the amount of sugar used.
| | |
| --- | --- |
| Ingredients | |
| Four bags | Your favorite green tea |
| Four quarts plus one cup | Boiling water |
| Four tablespoons | Sugar or stevia |
| The juice of four | Juicing lemons or limes |
In a four quart pitcher, combine boiling water and tea bags. Steep tea according to directions for iced tea. If there are none on your packaging, steep tea for two to three minutes longer than indicated for hot tea. Remove tea bags when steep time is done.
In a separate cup, combine remaining boiling water and sugar or stevia. Stir until combined. Pour sugar mixture into pitcher.
Add in your lemon or lime juice.
Place pitcher in your fridge for one to two hours, or until tea is chilled. Serve in glasses with ice.
Makes 16 one-cup servings. Click here for nutritional information (as provided by MyFitnessPal when using juicing lemons and white sugar).
Have a question about this recipe? Please email me.