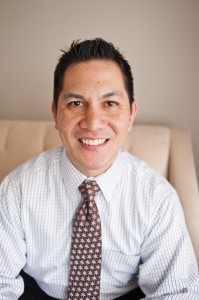 Dr. Ratio is committed to helping families in the community experience improved health and vitality. He speaks regularly to local schools, businesses, and organizations on health, wellness, and safety topics. He enjoys educating others on how to manage stress better, how to prevent injury in the workplace, and how to maintain peak-performance in all facets of life. His ability to accurately identify the source of a patient's problem and belief in the body's inborn ability to heal itself has helped him guide many families to reaching their optimal health potential.
Dr. Fred Ratio received his Doctor of Chiropractic (D.C.) degree at National College of Chiropractic in Lombard, Illinois. He has completed postgraduate training in clinical nutrition, acupuncture, and whole health techniques. Dr. Ratio has expanded the traditional chiropractic approach with cutting edge concepts that enhance the journey toward optimal health.
Dr. Ratio is a member of the American Chiropractic Association and the Illinois Chiropractic Society.
Dr. Ratio lives in Downers Grove, Illinois with his wife Julie and their son, Joah. Dr. Ratio enjoys live music, reading, and "get-aways" with his wife.