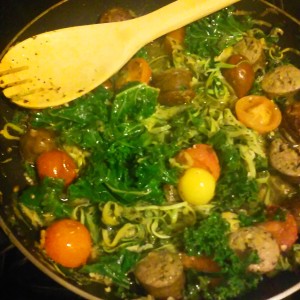 Have you heard of zoodles? They're taking over Pinterest, Whole Foods, and the kitchens of many who eat gluten-free or carb-free.
And I am absolutely IN LOVE with them.
Zoodles are "zucchini noodles." Using a spiralizer to "noodle-ify" your zucchini, you can then quickly cook them in the microwave, on a skillet, or in boiling water for a healthy, delicious, and super fast meal. Don't have a spiralizer? You can find them online (this is the one that I have in my kitchen) or in stores such as Target, Walmart, or Bed, Bath, and Beyond.
Look at that picture. That is a quick snap of an actual dinner I made out of zoodles, heirloom cherry tomatoes, kale, chicken sausage and pesto seasoning. I think that dinner took me less than 10 minutes of prep time, and probably less than 15 minutes to cook. You can find that recipe at the bottom of this post.
Plus, there are SO many options with zoodles. You can use them in any way that you would use normal pasta. Or you can use your spiralizer to cut thin strips of carrots for salads or sweet potatoes to make hash.
Below are recipes that I've culled from the internet showing you a few cool ways to use zoodles as well as the recipe I made above.
Zoodle Recipes
Pesto Zoodles with Veggies and Sausage
Makes two servings
| | |
| --- | --- |
| 2 links | Chicken sausage, sliced 1/2 thick (I used Trader Joe's Sweet Pesto Chicken Sausage) |
| 1 1/2 cups | Kale, washed and chopped, stems removed |
| 1/2 pint | Cherry tomatoes, washed and halved (I used a mixture of heirlooms for color) |
| 2 tablespoons | Olive oil (Can substitute coconut oil) |
| 2 medium | Zucchini, spiralized |
| 2 tablespoons | Dried basil (use 2x the amount of fresh if available) |
| 2 teaspoons | Garlic powder (use 2 cloves, minced, if available) |
| To taste | Salt and pepper |
Start by heating a skillet over medium heat. Add in your oil, and saute your chicken sausage until browned on both sides. Remove from pan.
Add in your zoodles. Cook for five minutes, stirring occasionally.
Add in kale and cook for another five minutes, stirring occasionally.
Finally, stir in your seasonings until well-combined, add in tomatoes, and return sausage to the pan. Place a lid on your skillet. Turn your heat up to medium-high. Continue to cook until kale is wilted, tomatoes are slightly blistered, and zoodles are tender (roughly two or three more minutes).
Serve hot.
Click here to see nutritional info per serving (as provided by MyFitnessPal)
Do you have any questions about this recipe? Feel free to email me.