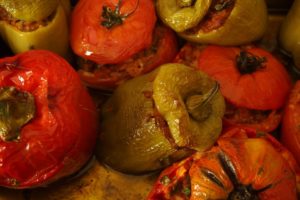 I was at the grocery store in the produce section, and I saw the prettiest green peppers. I bought six. I did not have a plan for them, but I wanted them. As I walked around the rest of the store, I found myself in the Hispanic foods aisle and knew what I was going to do: enchiladas with a twist.
These are ALL major allergy- and intolerance-free, but do contain nightshades.
Stuffed Pepper Enchiladas

Makes six servings
| | |
| --- | --- |
| 6 medium | Bell peppers (whatever color you like is fine, but get short, wide ones) |
| 1 cup | Brown rice or quinoa |
| 1 pound | Ground turkey or chicken, cooked |
| 1 large | Beefsteak tomato, diced |
| 1/2 large | Red onion, diced |
| 1 fistful | Cilantro, chopped |
| 1 large | Hass avocado, cut in half and each half sliced into three pieces |
| 1 28 oz can | Enchilada sauce or make your own |
Begin by preheating your oven to 350ºF.
Cut off the tops of each bell pepper. De-seed them and pull out the white ribs.
In a 9″ X 13″ baking dish, put down a thin layer of enchilada sauce. Place each of the peppers in the pan, cut side up.
In a separate bowl, combine the rice/quinoa, meat, tomato, and onion. Spoon the mixture into the peppers until each is filled.
Top each pepper with a slice of avocado (if desired, top with shredded cheese). Pour remaining enchilada sauce on top of peppers to coat.
Bake in the oven for 25-35 minutes, or until the skin of the peppers begins to wrinkle.
Serve hot and spoon additional sauce over peppers.
Click here to see nutritional info per serving (as provided by MyFitnessPal, using ground turkey, brown rice, and canned sauce).
Do you have any questions about this recipe? Feel free to email me.