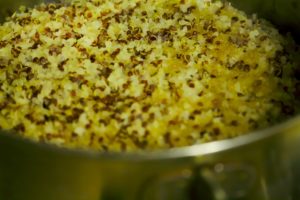 As the nights get hotter in the summer, I know most people don't want to spend an hour in their kitchens over a hot stove. This recipe is perfect for a satiating, fast dinner that requires only minimal cooking. Plus, it holds great in the fridge for leftovers in lunches or post-summer camp snacks.
Serve over a bed of mixed greens for a healthy, quick dish or between a burger bun with your favorite toppings for a hearty dinner.
This recipe is excellent in using leftovers. For instance, you can use last night's quinoa and leftover fish (like grilled halibut or poached salmon) instead of canned or pouched tuna.
Quinoa Tuna Fritters

Makes five two-fritter servings
| | |
| --- | --- |
| 1 1/2 cup | Quinoa, cooked and cooled completely |
| 3 tablespoons | Fresh parsley, finely chopped |
| 2 5-oz can | Tuna (or equivalent amount of other fish) |
| 1/2 cup | Parmesan cheese, shredded or grated |
| 1/2 teaspoon | Salt |
| 1/2 teaspoon | Pepper |
| 1/2 teaspoon | Curry powder (any color) |
| 1/2 teaspoon | Cumin |
| 2 large | Eggs |
| 1/2 cup | Breadcrumbs (can substitute gluten-free breadcrumbs) |
| 2 tablespoons | Olive oil, for frying |
In a large bowl, mix all ingredients except for the frying oil.
Form into patties, making sure to press tightly so they do not fall apart during frying.
Preheat oil in a frying pan to medium-high heat.
Cook patties until browned, about 4-6 minutes per side.
Serve warm, or keep refrigerated for up to four days.
---
Recipe adapted from DiepLicious.
Click here to see nutritional info per serving (as provided by MyFitnessPal).
Do you have any questions about this recipe? Feel free to email me.